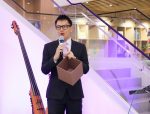 About
Emcee Singapore Lester Leo is an experienced Singapore based professional freelance emcee who discovered his true passion and love for entertainment and emceeing the very first time he took the stage.
Lester brought his zeal for emceeing far and wide and his versatility has landed him with a multitude of emceeing opportunities.
From a simple roadshow to an auction event to a corporate event, from a challenging 3500-strong audience to a national level event, Lester is able to rock just about any crowd. His high energy also makes him a popular choice for sports events.